Making Dried Tomato Powder
Dry your tomato crop as usual either sun-dried or in a dehydrator.

Store the dried tomatoes in a freezer bag in the freezer for about a week. This is a "just-in-case" measure to kill off any bug eggs that may be hiding in your tomatoes.
Set up the blender.
Remove the tomatoes from the freezer and transfer immediately to the blender. If you have more than one blender full, do this in batches. The idea is to grind up the tomatoes when they are frozen and fragile as glass. This approach gives you the finest powder.
Transfer the tomato powder to a glass container with a tight-fitting lid.
Store in a cool place, away from direct sunlight.
Using Dried Tomato Powder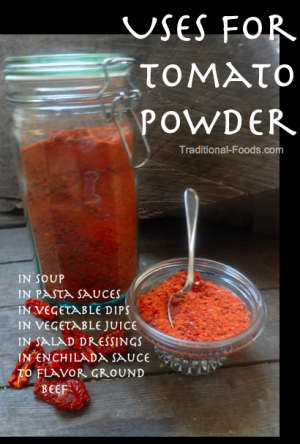 Here are some ideas for enjoying your tomato powder:
In simple soup.

Add it to a more complex soup that is crying out for more tomato flavor.
In enchilada sauce.
Sprinkled over ground beef as it is cooking or in hamburger patties as they are being formed.
In salad dressings.
Sprinkled over fresh vegetable juice.
In vegetable dips.
An addition to pasta sauces of all sorts, including spaghetti sauce for a more intense tomato flavor.
A sprinkle into scrambles eggs before cooking.
A sprinkle over cottage cheese with cucumber and green onion, sea salt and sumac